MP3 Cutter
X-Wave MP3 Cutter-Joiner is designed for easy and convenient lossless editing of audio files. The graphical display and a built-in player allows quick navigation through the file. All it takes is double-clicking the waveform to add the split line, and clicking the "Split" button.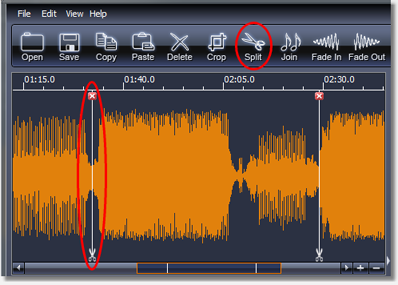 We have added special features to simplify your task further. They offer a quick way to cut an MP3 file into any number of fragments of any size or length. To split a file into three fragments, simply type "3" in the relevant field, and the application will add split lines on the waveform automatically.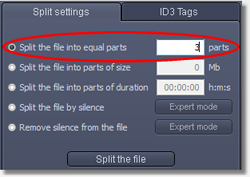 The silence detector will help you split an audiobook into chapters, a voice recording into separate interviews, and a presentation into individual speeches. It suffices to select the split-by-silence mode to get all the silence areas highlighted on the waveform.

The silence detector comes with a set of configurable settings ensuring high-precision silence detection. Changes made to any setting are immediately reflected in the file waveform, enabling you to achieve the best result effortlessly.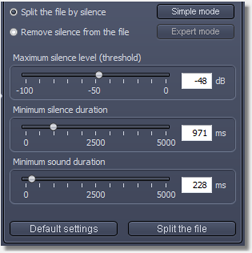 You often find several tracks combined into a single large file, such as an album of your favorite singer. This audio file is usually accompanied by a file in a special CUE format. The CUE file describes the position, length, and names of tracks inside the large audio file. Splitting this audio file into tracks requires simply loading the CUE file into the application and clicking the "Split" button.
In contrast to most other audio editors, X-Wave MP3 Cutter-Joiner does not convert the data into WAV format before editing and then back to MP3. This means that the quality of your MP3 file will remain unchanged no matter how many operations you do on it. X-Wave MP3 Cutter Joiner also supports all operations for WAV files.
X-Wave MP3 Cutter Joiner also lets you combine several MP3 files into one. For details, click the link: Mp3 Joiner.
Buy now
Download